Special! The Perfect Compliment 
To Your PowerPoint King Tut Training! 

Makes your PowerPoint videos really come alive…

Animation Sensation is the ultimate collection of ultra high quality animated mascots designed specifically to make your slideshow-style videos come to life. Unlike other character kits, these unique mascots come alive with animation, with each character featuring a full range of actions and emotions guaranteed to make your videos come alive.

Get 6 Animated Character Sets for The Price of a Single Static Character Set

You'll pay as much for a single character set from the other guys as you will for all 6 Animation Sensation character sets. And their characters aren't even animated!
You're Getting A Huge Collection Of "Done for You" Animation Mascots
Unlike the other mascot collections where you need graphic software and the skills to "pose" your characters, all the work has been done for you. Not to mention, their mascots are just "static" images. 
mix and match into thousands of combos
emotions postures actions

Special One Time Low Price 
Just pay once and use your Animation Sensation over and over and over again. Forever. 

The 90 second video below demonstrates how Animation Sensation characters can bring any video to life. All of the slides use basic black text and white backgrounds, with no special effects other than the sensational characters. This is as basic as it gets. As you can see, these slides take few skills and just a little imagination, yet look much more interesting using Animation Sensation characters:

Designed With PowerPoint in Mind
I've bought and tried about a dozen different video editors, and the one I use the most for Video Marketing is Powerpoint. While there's some new and flashy video software options out there, none give you the combination of ease, flexibility, resources, and power that Powerpoint gives you.
Powerpoint has a free 30 day full-featured trial, then is only $10 a month after that. Even better, there's tons of free and premium Powerpoint templates you can use, and Microsoft even has a built-in clipart search feature so you can add tons of images and graphics at no extra cost to you. Powerpoint really is a great deal and truly gives you limitless options.

Let's add a little spice to the Animation Creation characters. In the quick 49 second video below, I use a Powerpoint template and the character "Buddha" to really make it come to life. Again, this video took very few Powerpoint skills, just a quality Powerpoint template combined with an Animation Sensation character to really make it pop:


Below is a video that adds Animation Sensation characters over some video backgrounds. All this technique takes is some good videos for backgrounds, a little creativity, basic Powerpoint skills and your Animation Sensation characters:
All you need to make cool videos like the one above is stock videos for the backgrounds and Animation Sensation characters. Add in some basic text and maybe some effects using Powerpoint, and you have vibrant videos that are full of life and take very little skill and even less time.
388 Total Animations – Each Character Comes With At Least 55 Different Images!
Each character comes with a variety of actions and emotions, so you can tell a story quickly, easily and effectively. Whether you need a character to display happiness, sadness, excitement, confusion, good, evil, or more, Animation Sensation characters have you covered.
It's Like Having Your Very Own Actors and Spokespeople 
To Act and Perform Just For You!

(But without all the expense.)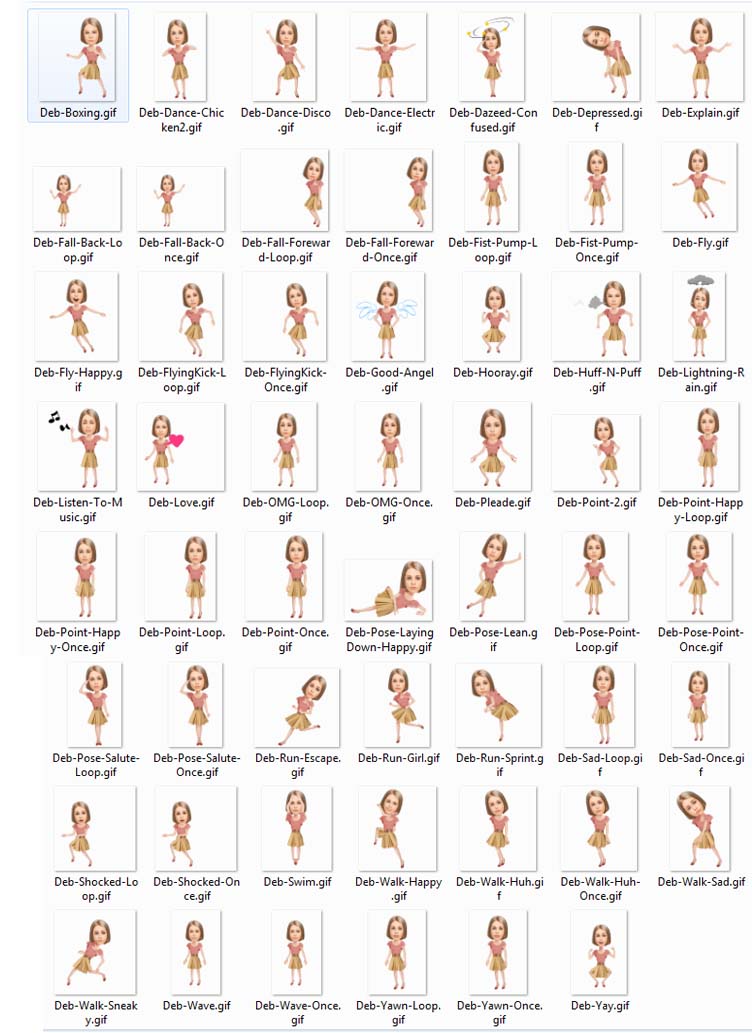 Note: Due to the nature of each individual character, not all animations are available for all characters. Each character has more the 50 different action packed animations, with a wide variety of expressions and emotions.
Remember: Deb is just one of the 6 characters included in your Animation Sensation character package!
Requirements: 
PowerPoint is highly recommended, as the animations were designed for use with Powerpoint. However, other video programs that can display and play animations may also work. Powerpoint 2013 has a free 30 day trial, then only $10 a month if you want to keep it. Probably my favorite program for making videos for video marketing.
Since these are high quality animations designed for making videos, it's not recommended to use them on web pages due to the large file sizes of the animations.
Good Internet connection. Because these animations are designed specifically for use in videos, they are large files and are delivered by download only. You will need to download almost 750 megs of animations.
Hard drive space for the 750 megs of zip files and the extracted files.
Ability to "unzip" compressed .zip files.